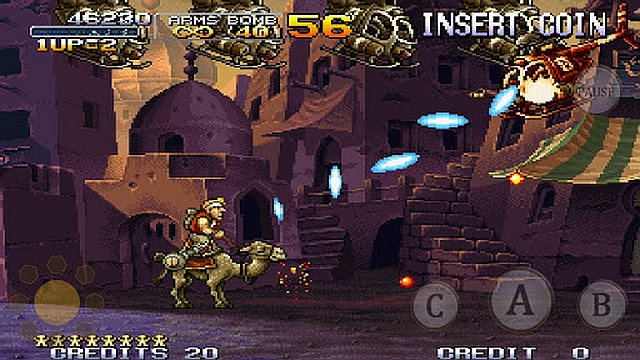 The classic hit platformer Metal Slug X is now available for the Android. This is a truly great game and not to be missed if you are a fan of platformers with style. Metal Slug X and it's prequels are well known in the gaming community, going back to the days of the Neo Geo system. It was so popular that it's appeared on many different systems and collection packs. This game has plenty of humour, while remaining action packed throughout. Collect weapons and health from hostages, use vehicles and shoot the best guns at a constant wave of enemies including big bad bosses. The level designs are brilliant and haven't lost their way through the entire series!
Features :
A remake of "METAL SLUG 2"!
"METAL SLUG X" is an updated version of "METAL SLUG 2" with a lot of new elements for even more fun and excitement!
Bosses and other enemy characters await you at different points on the battlefield, so that even players who have perfected the previous installment will enjoy this new and improved game map!
Shoot down your enemies with new weapons!!
New weapons, such as the "Iron Lizard" (remote-controlled missiles), the "Drop Shot" (bouncing landmines), and the "Enemy Chaser" (homing missiles), have been added to the impressive METAL SLUG arsenal.
An "Arcade-Perfect" NEOGEO Port with extra features!
In addition to the classic "ARCADE MODE", you can select any mission you have previously cleared and play them separately in "MISSION MODE". You can enjoy your favorite stages at will and train on the missions you have not mastered yet!
Precise and Customizable Controls!
The Autofire function allows you to fire continuously by holding down the Shot button. Moreover, you can change the position of your configuration outside of the game screen area in "Window" Mode. Enjoy every pixel of "METAL SLUG X" with your very own custom controls!
Engage into intense Multiplayer gameplay via Bluetooth!
Now you can enjoy "METAL SLUG X" with a friend through a Bluetooth connection. Team up with a brother in arms to accomplish together the difficult missions available in "METAL SLUG X"!
Compatible with "SCORE LOOP"!
Complete the maximum number of "ACHIEVEMENTS" in order to increase your "METAL SLUG X" Player Rank!
Beat the best scores and become World's Number 1!!
Available for only £2.49, you just can't avoid this one :)
WEBSITE
Also available -
METAL SLUG 1
,
2
and
3