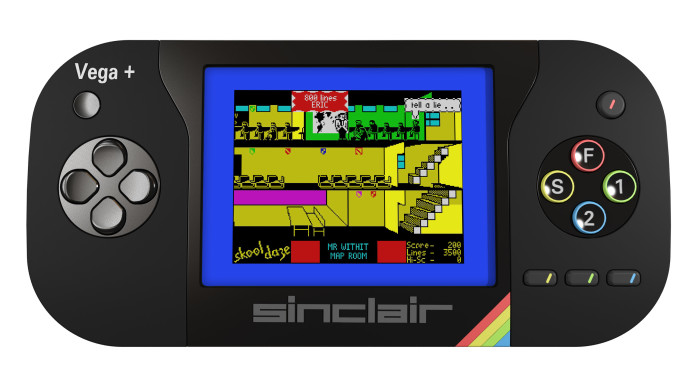 The ZX Vega+
The delay of the Vega+ has been well documented over the last year or so and the man that has been a vocal supporter of Retro Computers Limited - Lee Fogarty - has come under a lot flak due to these delays. As backers have been crying for updates, Lee has tirelessly tried to inform backers of the progress and urging them to keep the faith that the units will be ready to ship and in the hands of the backers on dates stated by the company. Targeted incessantly by the various vicious trolls that have emerged on the back of the Vega+ production, Lee has done well to keep it all together and to try and help to keep the project moving.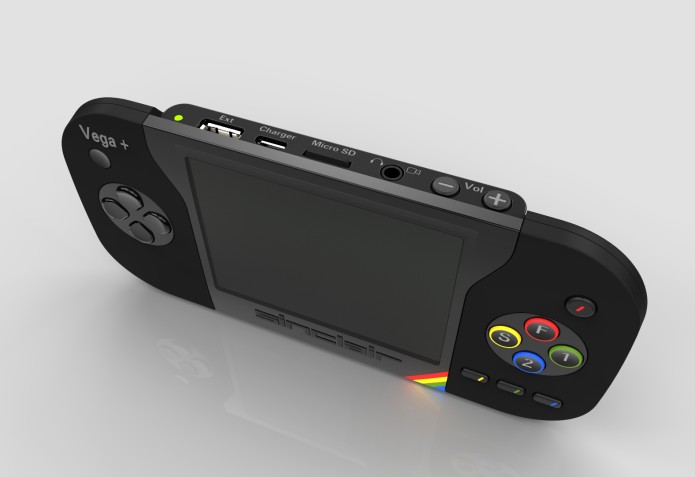 After a long association with the company, Lee Fogarty has issued the following statement:
'This is a personal statement regarding Sir Clive Sinclairs company, Retro Computers Limited (RCL) and my association with the Vega+ and the continued delays. I was not involved in this project at the beginning, and read about the project as an independent fan of the Spectrum. I was impressed that it was so much more than the original Vega, and a project worth backing.
On 21 May '16, I contacted RCL offering my assistance, as it was clear they were having some difficulty with their website following the departure of Paul Andrews and Chris Smith. I had never had any contact with these people prior to this time. I was put onto Suzanne Martin who informed me that the website had been taken down and a backup posted on DVD for recovery, but the company trying to restore the website had problems with it being sabotaged. That evening was spent recovering the archive.org backup to get the site back online.
When I received the files for full recovery via dropbox, it was clear the website had been sabotaged. This was quickly rectified and the website restored. The process from receiving these files to full restoration took 4hrs. There was also a 2nd website, and when I received the files for that via dropbox, there was no database included.
On the same day the RCL website went back online, I became a target for a coordinated, sustained abuse campaign. This has been ongoing now for 18 months, apparently because of the help that I've given to RCL to help them to get closer to releasing the Vega+, which is all I cared about. This has now escalated and has recently involved my family and friends. My partner has also had her address posted online with calls for people to contact her to receive refunds for a product and company she has nothing to do with. She has also had her business social media accounts trolled, had items posted to her address and her car damaged.
Despite the abuse, I continued to offer support and advice to RCL.
On 20 Oct '16, at the SMS factory in Beeston, RCL had their Vega+ launch party. It was announced at the party that full manufacturing would commence "within weeks" and the Vega+ would be in shops by Christmas.
Prior to the launch party I was aware that due to contractual issues, Private Planet had undertaken to re-write the firmware from scratch. This concerned me, as I know it takes a lot of experience with the machine you are emulating in order to emulate it, and it's not a quick process to produce an emulator, and my opinion was that an existing emulator author should be contacted to request licensing.
I was pleasantly surprised at the launch party to see working units, and it showed progress. However, during a conversation with the developer, it transpired that he was using the open source emulator FUSE. I expressed concern that FUSE was being used and nobody from that development team had been approached as I felt the authors of FUSE should have been aware, and I was concerned that with the amount of online abuse, that the team should be given the chance to prepare for the same level. I was told that there was no obligation to inform the FUSE team due to the license – this is true, but not in my opinion the way to endear the community you are trying to sell a product to. It would also have been wise from a development point of view to have contact with the authors to aid with ironing out any issues.
It was also very clear that the software was unfinished – a lot of features were missing or didn't work. However, these were minor issues easily fixed.
Over the following months, there were several conversations regarding the use of FUSE and keeping the team in the dark. I was feeling increasingly uncomfortable with the FUSE developers being kept in the dark about it being used to power the Vega+ and so contacted the team myself to inform them, and that they needed to prepare for the abuse when it was finally announced. Rightly or wrongly, I made that decision alone and with no authorisation from RCL. This gave the FUSE team plenty of time to prepare their statement when it was announced.
Over time, there were many disagreements with the way the project was being handled, and in particular updating backers with issues as well as progress – my opinion is and always was that they funded this project and deserve to be part of the journey. Of course, the final decision is always with the MD as to whether advice is followed or not.
On 8 April '17, there was an event in Nottingham. I had pre-arranged with the organisers that they would receive a working Vega+ as a thank-you for their dedication to the Sinclair brand for 35yrs, and in addition they were members of the launch party that were promised units, so it was an ideal opportunity to hand over. Due to a mix-up with times, the unit was handed over later than intended.
It was also arranged that some pre-selected testers from the community would also receive units. RCL was to be represented by Suzanne Martin and she would be available to demonstrate the units and answer any questions or concerns. Unfortunately, before the event started, Suzanne was called away and I was left to face backers and answer questions based on what information had been given to me by Suzanne. Again, it was with assurances that the units were about to be manufactured.
During testing, it became very clear that this wasn't a product that met my expectations, and any reviews of the product would be devastating. There were hardware issues ranging from annoying to serious. One example is that every tester lost their SD cards inside the units and had to take them apart to get them out. Once the cards are inserted properly, they are very difficult to remove as the SD card slot isn't spring loaded as you would expect with new hardware. The most serious concern however was the state of the software. Nothing had been done in the months from October to April. It was also very clear at this point that CTO Janko had no involvement in the production. There began a flurry of emails with bugs, and no coordination of the testing process, so I took over to organise testing.
The organisation went well, however the replies from Private Planet were either condescending or completely wrong. For example, I was told one of the advertised features – ULA+ was impossible to install due to framebuffer issues. This is rubbish as there are other versions of FUSE with ULA+. My suspicion was that the menu was at fault and there are examples online of other menu solutions that could have been used. There is also a thriving online community that could have easily advised. Again, I pointed out there are many people in the Sinclair community that could have helped with these issues. Some issues came out of lack of knowledge of the machine (beeper and AY levels being wrong and making music sound incorrect can only be detected by seasoned Sinclair gamers).


We received a firmware update that we had assumed would be the start of bug fixes, however nothing was fixed, and new (non-working) features added. It was very clear that this software hadn't undergone basic checks prior to being sent out. It is also my suspicion that this was a previously written update many months old.
The issues ranged from minor quirks to severe "show stoppers". Many of the advertised features didn't work – for example, TV out, Keyboard input, ULA+, etc. Shortly after receiving the last bug report, we were all asked not to contact Private Planet any more and that they were working on the issues. That was the last contact we had with them, and no further updates were received.


At this point, it was clear there were serious issues with the company. The CTO (Janko Mrsic-Flogel) had gone missing leaving everything to a very non-technical Suzanne Martin. The amount of online abuse was building and getting a lot worse.
I had also spent the last 12 months asking repeatedly for backers to be updated properly. I was told that due to the amount of abusive emails received with each update that it had to be planned for when the MD had time to filter the abuse next day. Given the abuse I was getting, I have no problem believing thousands of abusive emails were being sent weekly, and they increased after an update – mostly from the same few people. I had however several times offered to apply filters to the emails so the abuse could be ignored. It's a very simple task for anyone to do this themselves.
During the testing and following the replies from Private Planet, I suggested a unit be sent to one of my contacts to complete the work from Private Planet, and also compile it on-chip. The option was to use my Linux expert to complete the work from Private Planet, with support from myself for the specifics (he is also a Sinclair user so support would have been minimal), or start his work again as it was clear the installation process from Private Planet was wrong, or the 3rd option to use him to install Linux on chip, and send the source-code to a seasoned emulator author to complete.
It was agreed that as a backup, this would be done. Neither party were contacted.
On 3 July '17, I contacted an emulator author that has experience with his own emulator and SOC installation. It was very obvious to me that he knows what he's doing, and he informed me that it would take around 12 hours after receiving the hardware to have a test version of the firmware produced.
Whilst this was going on, other members of the community were sourcing additional games for the Vega+ as some copyright holders had withdrawn their titles. I expressed many times concerns that the games needed videos for PEGI rating, would need testing, keymaps created, etc and time was running out for another deadline. On request of RCL, I got a group together to sort these issues out, and discussions commenced around managing games testing and the other items needed, which would be managed by myself. To date, this testing hasn't started.
It was also pointed out to RCL that in order to test correctly, the new firmware needed to be installed on the units. To this date, not one single person has seen this firmware.
I met with RCL on 2 Oct '17. I was handed a 3D printed model of the new design, however there was nothing to convince me that this is a product about to be released in weeks.
During several conversations with Suzanne, the question of competition prizes was raised. It was agreed that 20 white units would be made with the World of Spectrum logo on, and boxes printed to match. This was a thank-you to the community that has supported this project, and kept Clives legacy alive. There were also due to be 5 golden units for prizes and a prize draw at the Spectrum35 function.
In the meantime, both RCL and the ex-directors have engaged in a very public legal battle. In my opinion, these legal battles are diverting the attention of the RCL board from finishing the project and vastly delaying the backers getting their Vega+ units that they have paid for.
During statements, conversations with journalists, and several private conversations, I have always stated that if I thought for a second that the units weren't going to appear, I would be the first to shout about it. My entire motivation has been to help bring the Vega+ to the backers and retail. I have been paid a modest fee via my company for services, at a rate far less that I would normally charge, however the majority of my time has been for free for what could be a fantastic product.
It is of course entirely up to the Managing Director to follow or not follow any advice given, however due to my lack of confidence and my family being targetted, it is now time to end my association with the project.
To those that did target me and my family and friends, all I can say is shame on you for attacking anyone and everyone trying to help backers to get what they paid for.
This project deserves to succeed. It is a nice unit, and when it plays, it plays well.
I will not be replying to comments and would like to wish the project and RCL the best of luck in finally producing the ZX Spectrum Vega+'.
Given the information in Lee's statement, it's a great shame that the project and individuals have been targeted during the development of the Vega+. There is never a need for personal attacks and some of the abuse that he's been levelled at individuals has been appalling. It's a shame that Lee is no longer involved but we can all hope that the Vega+ will be in production soon and will get delivered to backers. If RCL are going to release a statement soon - we will have to wait and see. All I can say here is fingers crossed that the unit will materialise soon as many know what a great console the Vega+ could be.
If there are any further updates, be sure you will hear it here.

*disclaimer - all views contained in this article are my own (florinthedwarf) and may not reflect the views of the rest of Indietretronews.com