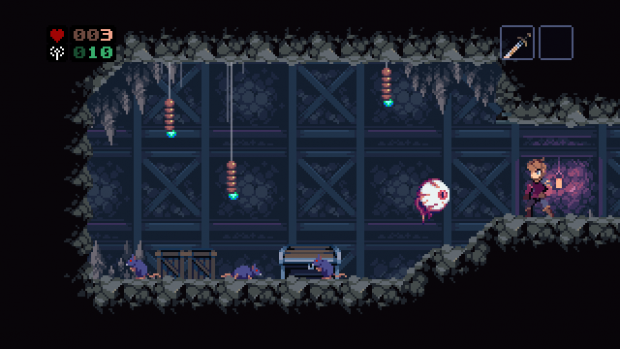 Chasm by Discord Games for the PC, Mac and Linux is a new 2D Action Platformer with RPG elements, that should fill the gap we've been waiting for since Cave Story. This platformer contains procedurally generated dungeons, loot drops, treasures, deadly enemies and tons of secrets to keep you busy. Chasm also has some pretty nifty sound effects which would sound great on any retro system! The developers have also pushed Chasm towards a kickstarter with a staggering $150,000 pledge goal, hopefully the teaser demo will persuade us gamers.
STORY :
In Chasm, players take up the role of a soldier passing through a remote mining town on their journey home from a long war. The town's miners have recently disappeared after breaching a long-forgotten temple far below the town, and reawakened an ancient slumbering evil. Now trapped in the town by supernatural forces, you're left with no option but to explore the mines below, battle enemies and bosses, and increase your abilities in hopes of finally escaping and returning home.
Current & Planned Features
Procedurally generated Metroid-like dungeons. Never play the same dungeon twice!

Authentic 2D Pixel Art (320x180 native resolution).

Equip weapons, spellbooks, shields, and more to both hands to play how you want.

Random loot drops with chance of Unique or Legendary status for bonus stats & effects.

Boss & random Mini-boss battles.

Devious traps and platforming challenges.

Normal & Hardcore (Scoring and Permadeath) Modes

Windows, Mac, & Linux versions with gamepad support.
KICKSTARTER
DEMO
DOWNLOAD
(Windows-only)
Chasm also needs your votes on Steam Greenlight!
http://steamcommunity.com/sharedfiles...
Website:
http://www.chasmgame.com
Twitter:
http://twitter.com/DiscordGames
Facebook:
http://facebook.com/DiscordGames
MAY 2014 RELEASE